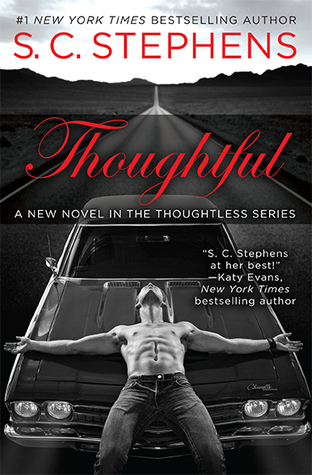 It's time for Kellan Kyle, the rockstar who captured our hearts in Thoughtless, to tell his side of the story. The only place Kellan has ever felt at home is on stage. Gripping his guitar in a darkened bar, he can forget his painful past. These days his life revolves around his music and his band mates, and that's the way he likes it. And then one woman changes everything . . . Kiera is the kind of girl Kellan has no business wanting - she's smart, sweet, and dating his best friend. Certain he could never be worthy of her love, he hides his growing attraction . . . until Kiera's own tormented heart hints that his feelings might not be one-sided. Now, no matter the consequences, Kellan is sure of one thing: he won't let Kiera go without a fight. 'What happens when you find your soul mate at the worst possible time, in the least expected place? What if being with that person means doing the most wrong thing you've ever done?
[It] leaves you thinking about these questions, the characters and their choices for days if not weeks after reading.' TAMMARA WEBBER, New York Times bestselling author on THOUGHTLESS
My Review
I loved the Thoughtless series so I was so excited when I heard we were getting Kellan's side of the story. It did make me nervous as something re-tell sometimes don't work but I was no disappointed with this one.
Kellan is and will always be one pf my favorite book boyfriends so to hear his thoughts and feelings of the events that happened in Thoughtless. Its a quite emotional and painful story as times as Kellan shares his feelings for Kiera only for her to keep choosing Denny. I heart went out to Kellan many a times as I was reading. As with the first book I felt the angst again, I felt angry for Kiera's actions all over again.
The reason it wasn't a 5 star read for me was I just felt it was a little long, I did at time find the dialogue a little long and found myself skimming little bits.
It was a great through that fans of Kellan Kyle will love and it's not just an story re-told but it does also enhance the first story. I would recommend reading book 1 first to then get the full effect of this one.
Overall a brilliant beasutiful, emotional story and I'm happy as its more from Kellan Kyle.
ARC gratefully received from Little, Brown Book Group UK in exchange for an honest review
S.C. Stephens is a New York Times #1 bestselling author who spends her every free moment creating stories that are packed with emotion and heavy on romance. In addition to writing, she enjoys spending lazy afternoons in the sun reading, listening to music, watching movies, and spending time with her friends and family. She lives in Washington State with her two children. Follow her on Twitter @SC_Stephens_